About Me – Who is MC Thamizharasan Karunakaran from Chennai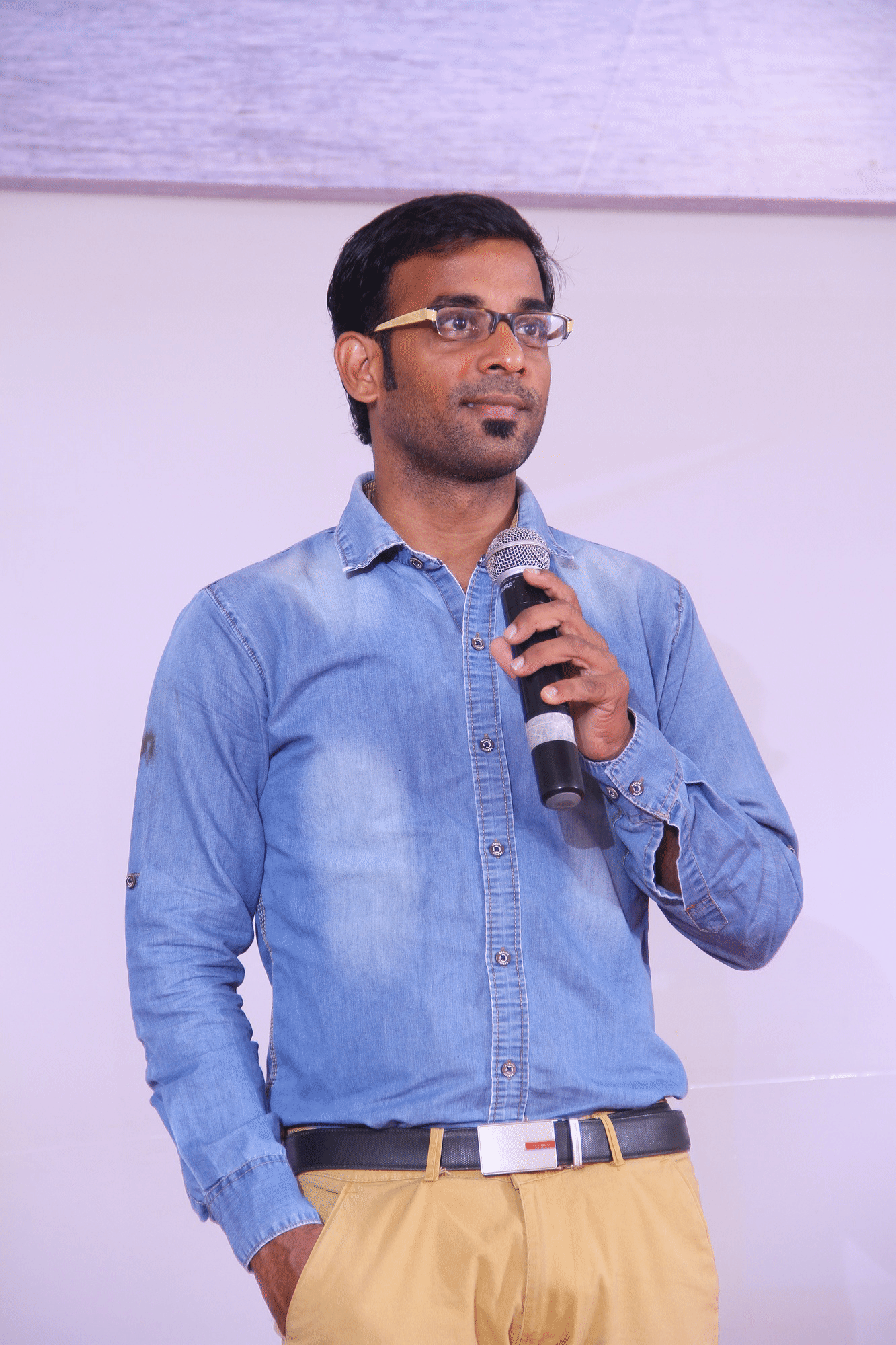 I'm Thamizharasan Karunakaran called in short as Thamizh R K. I'm a Tool & Die Maker and a Psychologist by Qualification and an Event eMCee / Actor / Anchor / Trainer by Passion and Profession. I'm currently in Chennai, Tamilnadu.
I worked for several manufacturing industries, corporate and eventually into events and media career now. I started hosting events in 2012 after getting training from my VJ / Master of Ceremonies Trainers Ms Monisha Manoj and Mr Manoj.
I worked for Puthuyugam TV Channel as Freelance Actor in 2013-14 and for ITV as show Producer and Anchor in 2014. Now I'm into full time events as Event Anchor, Emcee Manager and MC Trainer. I have also been taking part in several TV shows in Various TV Channels including Sun TV, Mega TV, Zee Tamil and Makkal TV and have also been appearing in several YouTube Channels.  I have also played a reporter role in award winning Tamil movie "Aruvi" and Award Winning Short Film "Rudran".
Talking has been my hobby since childhood and with guidance from my Mentor Dr Maharaja SivaSubramanian N, I found my core value as connecting with people. Hence I enjoy hosting live events as it gives me a platform to interact and connect with live audience. I host events starting from as small as a birthday party to as big as a corporate event.
I have hosted more than 1200 events so far (as on 13th August 2019) which includes 700+ events as a cohost with my Business Partner MC Nandhini Aravindan. Though I started my events career in 2011,  I didn't take much events when I worked for TV channels. After I relieved from TV anchoring job, I took events career more serious since January 2015. Hence I was able to host more than 150 events in 2015, more than 200 events in 2016 and more than 250 events in 2017 and 2018 each.
I have been hosting Birthday parties, Sangeet, Wedding Receptions, Corporate Outings, Team Building Activities, Out Bound Training, Product Launches, Mall Activities, Annual days, Conferences, Quiz Shows, Press Meets, Audio Launches, etc at Chennai, Rest of Tamilnadu, Pondicherry,  Bengaluru (Bangalore), Kerala, Andhra Pradesh and New Delhi. I'm also expanding to other parts of India.
I'm a blogger and a Vlogger as well. You shall check my creations in my blog www.thamizharasankarunakaran.com/blog and shall search my videos in YouTube as "MC Thamizh".
I'm the founder of the brand Chennai Event Emcees which focuses on Emcee Training and the Co-Founder of Chennai Event Entertainers which focuses on collaborating with other Event Professionals and organizing events. I'm also the founder of Chennai Event Professionals which is the parent brand for both the above brands.
If you are looking for an Event Anchor (Emcee) or an Event Organizer for your event, please feel free to contact me. Would be glad to serve you and create memories for yourselves and your guests.
We at Chennai Event Entertainers cater to: